How do I contact your customer services?
You can email info@misslontay.com or fill out the automated contact form which will email the relevant department anytime. Alternatively call us on:
USA and Canada +1-407-255-4524, between 10.00 - 17.30 (GTM -05.00 Eastern Time US and Canada).
You can write to us at:
WEB ENQUIRIES - UK
Miss Lontay
Orchid Ink House, 13 Ringwood Road, Luton Bedforshire LU2 7BG, England - UK

WEB ENQUIRIES - USA
Miss Lontay

P.O.Box 1664, Windermere, Florida 34786, USA
We will endeavour to resolve all queries within a maximum of 3 working days.

What is Miss Lontays refunds and returns policy?
Miss Lontay offer you a 100% guarantee that if you are in any way dissatisfied with the goods that you have ordered online, we will exchange them or give a full refund within 28 days. This does not affect your statutory rights.
Unfortunately we cannot, however offer this guarantee on goods that have been worn, or briefs, swimwear & hosiery & accessories, unless the product is found to be faulty.
Please note that corsets can only be returned in perfect condition. All corsets should be tried over a vest or shirt to avoid marking.
If you wish to return goods please return them to the address below with the following information;
Full Name
Invoice Number
Reason for return
Please state whether you would like a refund or replacement.
We recommend obtaining proof of posting for all returns. We will contact you as soon as we receive your return to let you know when the refund has been carried out or when the goods to be exchanged have been sent out.
For further information please contact us at: info@misslontay.com
Return's address:
WEB RETURNS - UK
Miss Lontay
Orchid Ink House, 13 Ringwood Road, Luton Bedforshire
LU2 7BG, England - UK

WEB RETURNS - USA
Miss Lontay,

P.O.Box 1664 Windermere, Florida 34786. USA

What payment methods does Miss Lontay accept?
Miss Lontay accept personal cheques (UK only), Money Orders, or all major credit and debit cards via PAYPAL in US dollars, Euros, Australian Dollars, Japanese Yen and British Pounds





To order on line one must set up an account with Miss Lontay. No credit card information is stored on your account file with Miss Lontay, only your contact details and information of your order for processing. Once you have confirmed your order you will be taken to Paypal if you selected the Paypal option, to pay by credit card. Paypal is a fast, simple and secure credit card payment system.
How do I view prices in the my local currency?
To view the prices in the following currencies





go to Register/Login and select your currency on the right hand side under "your shopping cart" ie: pound sterling or US dollars etc. Prices will then be calculated in local currency and can be paid for via Paypal option.
How will I know you received my order?
Miss Lontay will send you a confirmation email acknowledging receipt of your order.
How quickly will my order arrive?
We aim to dispatch all items held in stock placed on the internet within 48 hours.
You should receive your order within 14 working days.
My order has not arrived what should I do?
Very occasionally, packages do get lost in transit. If this happens and the error can be traced to us we will replace your order at no charge to you. However, if your package has been delivered to and signed for at the specified delivery address, Miss Lontay cannot be held responsible and will not replace the items.
How much do you charge for shipping?
United Kingdom Recorded Delivery is £2.95
Worldwide Delivery, and Express UK Delivery is £10.00
Free deliver for all orders in the UK over £150.00.
Delivery times within the UK & Europe are approximately 3-7 working days, the rest of the world including US & Australia takes approximately 7-14 days.
UK packages are all sent recorded by First Class Royal Mail deliveries to the rest of the world are sent registered post by ROYAL MAIL, AMTRAX or DHL depending on location.
Is my package insured?
Yes, it is insured when sent on worldwide delivery. For UK Standard deliveries your package is sent either recorded or registered.
Delivery time and cost
All products will be shipped as soon as possible, subject to payment card authorisation, cheque or money order clearence and stock availability.
Orders are sent in plain packaging. However, please note that for delivery purposes, our return name & address will be shown in one corner of the address label.
CUSTOMS, DUTY AND TAXES
Will I have to pay any Customs charges in my country ?
It is a legal requirement that we declare the full value of the goods on all packages destined outside the European Union, and shipments may be subject to import duties and taxes, which are levied once a shipment reaches your country.
Additional charges for customs clearance must be borne by you; unfortunately we have no control over these charges and cannot predict what they may be.
Returning goods on which duty has been paid
If you have paid import duty for goods received, and subsequently return the goods to us, it should be possible for you to claim a refund of duties from your local Customs authority. To do this, you will need to show them proof of duty paid and proof of export (e.g. certificate of posting) when claiming your refund.
Should you have any further queries on duties payable/refundable, please contact your local Customs authority.
HOW DO I CANCEL AN ORDER?
Under the United Kingdom's Distance Selling Regulations, you have the right to cancel the contract for the purchase at any point from the time of ordering until seven working days after delivery.
To cancel this contract, either telephone the Customer Service team on one of the following numbers, or email us, stating the order number and giving your clear instruction that you wish to cancel the order: info@misslontay.com


FOR USA AND CANADA CALL: +1-407-255-4524
If we have already shipped your order, you will need to package the relevant items and send them back to us.

WEB RETURNS - UK
Miss Lontay
Orchid Ink House, 13 Ringwood Road, Luton Bedforshire
LU2 7BG, England - UK
WEB RETURNS - USA
Miss Lontay Ltd
P.O.Box 1664 Windermere, Florida, 34786, USA
If we do not receive the item back from you, we may arrange for collection of the item from your residence at your cost. We will refund the relevant part of the purchase price for that order as soon as possible, and in any case within 30 days after we receive your notification.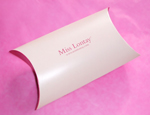 Miss Lontay Gift Boxes
are FREE with all
items of lingerie.

VIEW
Orchid Silk Chiffon
Baby Doll

VIEW
Orchid Silk Chiffon
Loungewear Trousers

VIEW
Orchid Silk Chiffon
Chemise